Welcome to MTT-11 web site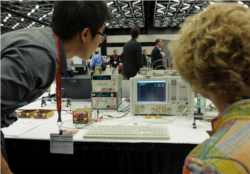 The Microwave Measurement Technical Committee promotes activities related to microwave measurement technology and science. This includes furthering the investigation, understanding, and the art and practice of microwave measurement. The committee works to increase both the visibility and vitality of the measurement community within MTT-S. It stimulates, develops, and sponsors quality technical sessions and workshops within IMS and other venues, provides web-based technical measurement forums moderated by experts, develops quality educational tools, and develops other ways of disseminating information related to microwave measurements. The technical committee will work with the MTT-S Standards Coordinating Committee in developing and establishing IEEE standards and best measurement practices in the microwave and millimeter-wave field.
---
Wiki
A Wiki on Microwave Measurements is Already On-line here.
---